A smith is a forging metal worker. One of the most ancient crafts in the history of mankind is blacksmithing.
Many customers prefer customized metal products according to their blacksmithing projects and personal preference. Forging products are also used for decorative decoration of premises, and buildings, and to increase their level of security.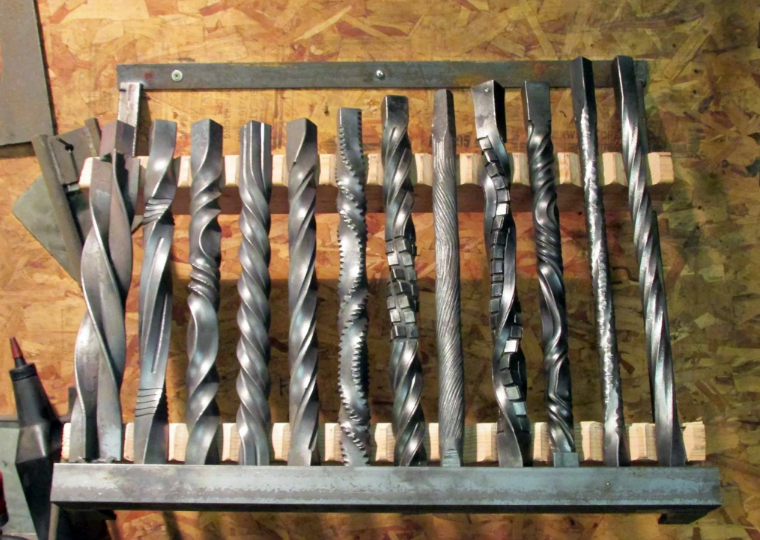 Blacksmith workshops are considered a highly specialized type of production, although in recent years there have been more and more smith workshops. Profit, which is quite realistic to get by doing blacksmithing, began to attract more and more craftsmen.
What orders does a blacksmith shop usually produce? These are spiral and other types of stairs, forged gratings and fences, metal benches, fireplaces, chandeliers, candlesticks, and a variety of interior and other items.
Who is a blacksmith?
A blacksmith is a craftsman who makes products by working metal. The list of materials he works with includes iron, steel, cast iron, silver, gold, and others.
All items are made by specialists by hand, but in some workshops, they install special equipment that simplifies the work process, such as mechanical and hydraulic hammers.
They independently strike the metal with a certain frequency and allow the master to concentrate all attention on giving the desired shape to the product and save energy. The result of the work of a specialist has forged products: fences, gates, and interior items.
To work in this profession requires good physical fitness, endurance, caution, and attentiveness, as well as the ability to artistically design your products.
Specializations
There are several specializations in the smith profession.
The smith punch works with hot stamping of large products on special presses or with the help of mechanical hammers.
A hand-forged blacksmith makes handmade items with a small mass.
The smith operator is a specialist who controls the process of hot stamping on automatic lines. To do this, he uses the control panel. He also participates in the repair of equipment and is engaged in checking products according to the model.
A blacksmith of precious metals is engaged in the forging of precious metals and the manufacture of alloys from them.
Equipment for blacksmithing
The choice and purchase of equipment and tools are one of the most important issues when making money smithing. The projects require a lot of tools, and it differs in their purpose: supporting, punching, percussion, consignment note, paired, etc.
Among the percussion tools, there are sledgehammers – they will be needed in various sizes to work with large and small workpieces. You will also need to buy anvils, which are related to the supporting equipment.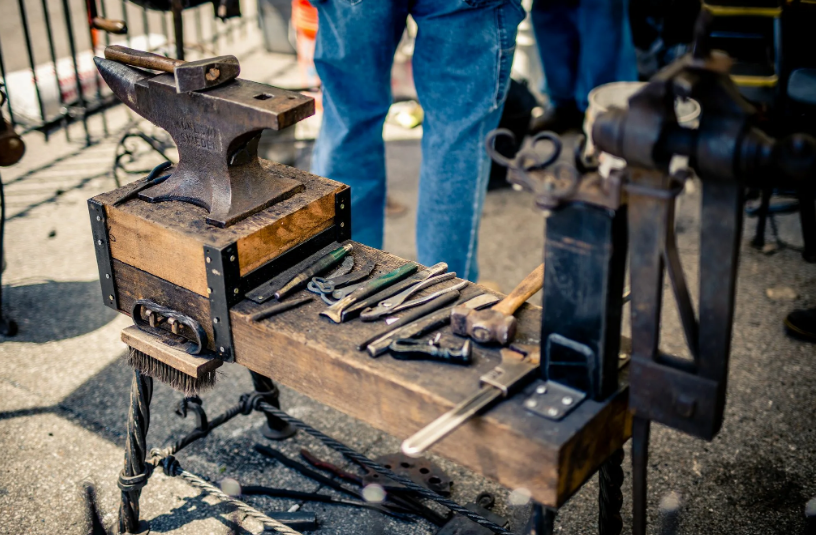 A beginner blacksmith cannot do without various metal clamps and tacks that will hold the workpieces. You need at least 1-2 pairs of vices. With the help of an applied tool, a notch or stuffing of metal products is performed.
However, the most important piece of equipment is, without a doubt, the forge, which is not in vain called the heart of any blacksmith workshop. Different designs of forges use different types of fuel. Some of them run on conventional wood or other solid fuels.
List of blacksmith projects that sell well. Blacksmithing makes money
Coat hooks and J hooks
Regardless of the type of S or J hooks, they are fairly easy to make. A coat hook is a great item to give to friends and family or sell at local events.
Clothes hooks are functional handmade items that many people love to buy. Rustic wrought iron coat hooks look great in most homes and are unique pieces you won't find in stores.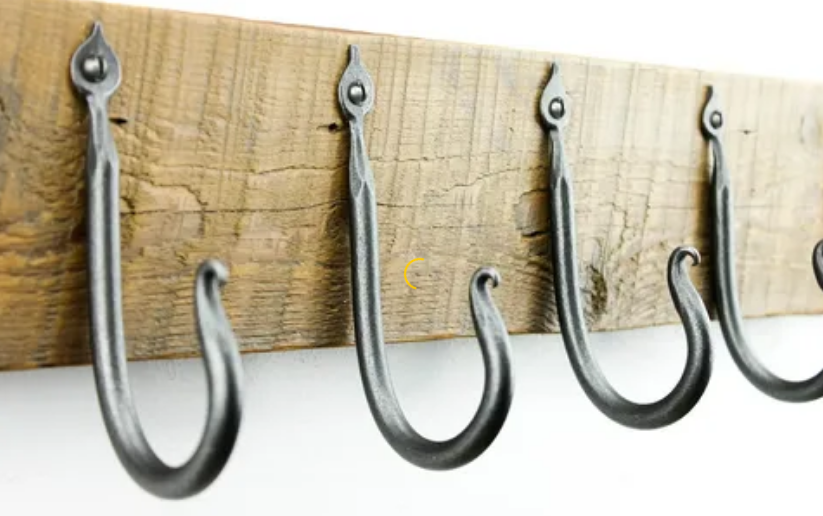 The J-hook is a handy item to have at home. J hook can be used to hang an endless variety of items and are therefore very attractive to potential buyers.
Drawers
Drawers are very quick and simple items that only require a few basic tools. Customers love drawer handles for both their aesthetic and practical value.
Fire poker
Fire poker also made it to this list of the easiest blacksmith projects. With a basic forging level, you can easily make a fire poker that will last a long time and well. As with any item, you can make it as simple as possible or add some decorative work if you're going to sell it.
Decorative bowls
The decorative bowls are perfect for sale for anniversaries, Valentine's Day, weddings, and other occasions. Bowls can be any size and finish, and for added appeal, initials, names, or dates can be stamped onto the bowl to the personal preference of each customer.
Meat skewers
A set of skewers can be given as a gift to a hunter or fisherman, or a simple connoisseur of beautiful things. Such skewers are not only beautiful but also very convenient to use. The set is always useful to prepare delicious and healthy dishes – meat, fish, and vegetables.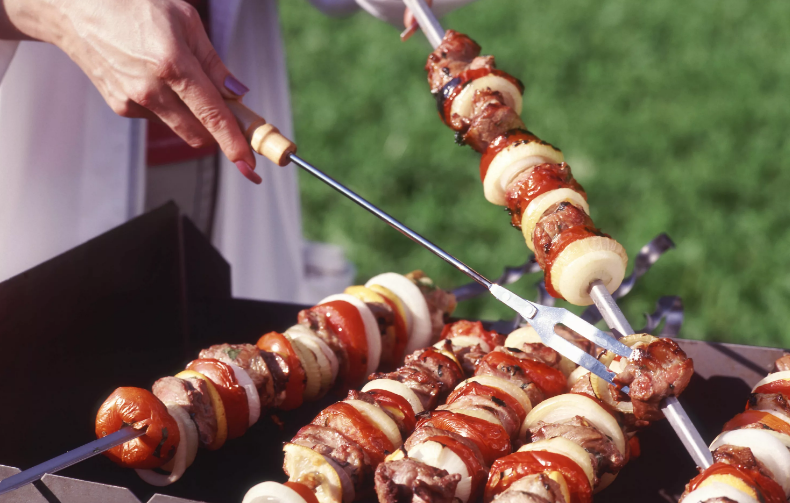 Rings
One popular blacksmithing project is rings that sell incredibly well. There are many different types of rings on the market. Some of them are incredibly complex and sophisticated, far beyond the skill level of most novice blacksmiths.
Necklaces
Necklaces are also very similar to rings. There are also quite a few different types of necklaces that are in high consumer demand. You will be surprised at how easy some of these can be for a beginner blacksmith, as long as they have a basic understanding of jewelry making.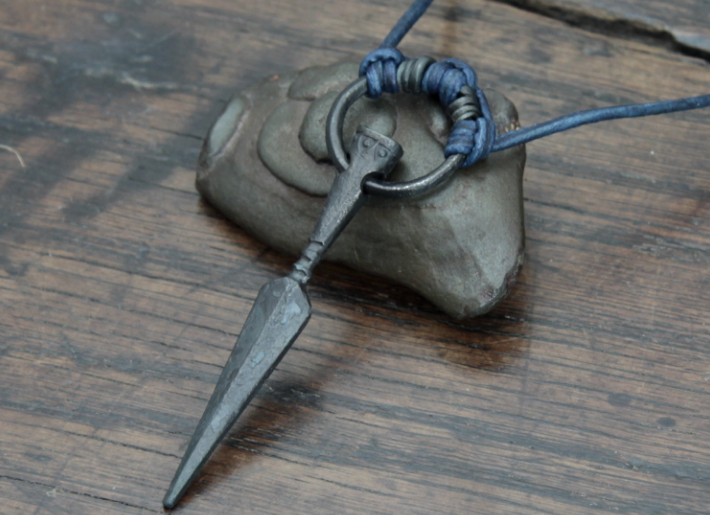 Of course, the problem with creating something like this is that you will be working with a particularly small object. Unlike forging a knife or sword, which are larger and fit on a traditional anvil, forging something small requires a fine hand and some more specialized equipment.
However, it is still very affordable for the average novice blacksmith who is looking for a project that sells well.
Icons and symbols
The Christian cross is just one example of the type of badges and symbols that beginner blacksmiths can make a big profit.
When it comes to spiritual and religious beliefs, people are often willing to pay significantly more for something custom-made and handmade than for the cheap knick-knack you can buy at your local dollar store.
Knives
You can earn a lot of money selling custom-made knives. Unlike jewelry, where a minimalist style is often preferred, knife-making tends to be more complex.
Although there are many knife enthusiasts out there who spend thousands on high-quality knives. However, once the average person has one or two high-quality knives, they tend not to buy more.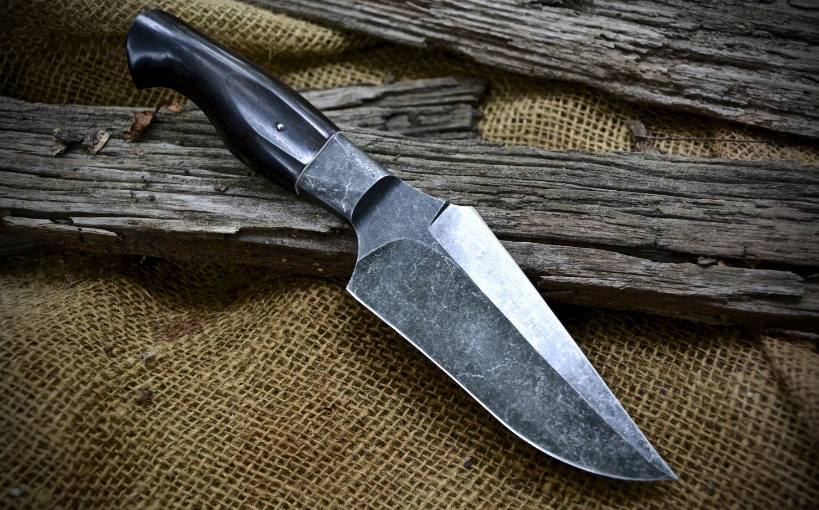 Again, knives are mostly bought by men. Jewelry, on the other hand, is more often bought by women, and buying several different types of rings tends to be more common.
If you want to sell knives and are willing to put in the effort to be successful at money blacksmithing, you can make a very large amount of money doing so.
In addition, making a high-quality knife also usually requires making a sheath. Depending on what you plan on doing, this may mean learning some leather skills. If you are a beginner, it is not recommended to make knives.
Pots and pans
Cooking kits, mostly pots, and pans can be incredibly lucrative for beginner blacksmiths who sell them online.
Custom-made pots and pans don't just sell for quite high prices, especially if you have a unique style that sets you apart from the competition. At the same time, pots and pans are not as demanding in terms of skills as knife making.
The biggest problem with pots and pans, and kitchen utensils in general, is that people are going to use them in contact with food. This means that whatever you use for your work must be safe to ingest.
This also means that you need to be careful about what type of metal you are using when doing these things. Some metals, such as scrap galvanized steel lying nearby, can be potentially dangerous if heated repeatedly.
Cutlery
Cutlery such as forks and spoons can sell quite well, although they are not the most expensive. At the same time, you have a variety of spatulas and other kitchen utensils that can be crafted by blacksmiths and sold online.
The big problem with cutlery is that it involves making a lot of small items rather than just working on and finishing one big piece of metal.
So, if you're trying to sell cutlery online and want to make something a little fancier, it can get a little inefficient for blacksmiths to work on every single fork, spoon, and knife.
However, the demand for cutlery is still there and you can earn a solid income from selling things like spatulas. This is something worth paying attention to.
Bottle openers
You can easily buy new, but there is something special about handicrafts. Although bottle openers will not serve as a blacksmith's tool, they will be used for other purposes.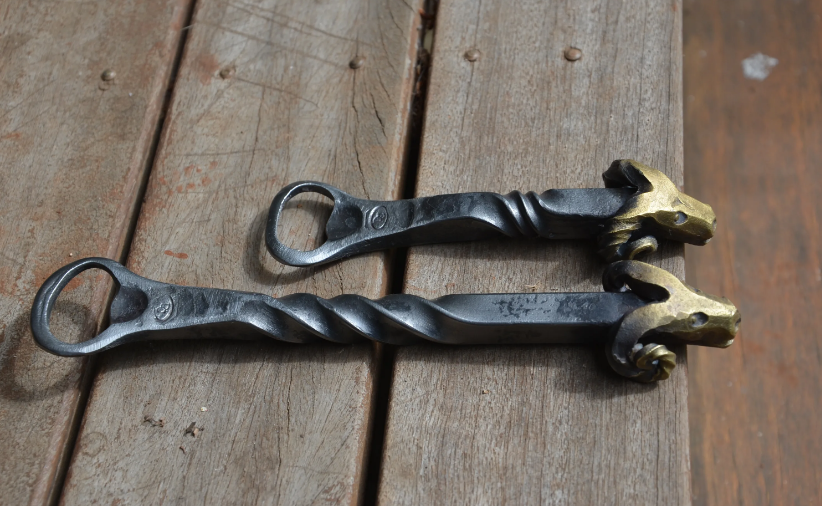 For example, it might be a good gift for someone. This is one of the easiest blacksmithing projects on the list. Bottle openers are one of the items that sell well online.
5 most important tips for beginners
Here are 5 of the most important blacksmithing tips that every newbie should keep in mind when working on blacksmith projects.
Be sure to warm up the stock
When beginner blacksmiths are just getting started, one of the biggest mistakes is understanding how long it takes to properly heat a piece of metal. At a minimum, wait until it turns dark orange before you start hitting the metal.
If you're working with something too thin or a bit brittle, if you don't heat the stock enough, it could cause you to accidentally break it.
Control forging temperature
If you are working with a gas forge (recommended for beginner blacksmiths), then managing your heat will not be as difficult as with other types of forges.
However, if you are one of the many blacksmiths using a coal or wood-fired forge, you need to pay close attention to how hot your fire is.
Every few minutes or so, be sure to take a break and check if it is too cold. Of course, acquiring a gas forge greatly simplifies this process, but most prefer the more traditional charcoal or wood-fired forges instead.
Take your time and have a rhythm
Don't rush to start your project. Not only do you have to make sure you heat your stock enough before you start, but you also don't have to go overboard with your hammer blows.
When it comes to blacksmithing, it's hard to fix things. Once you've struck with your hammer, you can't fix it. If you accidentally break something because you are in a hurry, you will have to start over. You can easily end up losing a lot more time.
Prepare your tools ahead of time
When you plan to get started on an exciting project, make sure you have all the materials and tools you need beforehand.
When you forget to find a certain type of tool and end up wasting half an hour trying to find it, your stock will go cold (and maybe even your forge too) and you'll need to reheat both of them.
This may sound pretty simple, but just make sure you plan for what you need. Lay everything out next to you as you begin your project.
Know what materials you can and cannot use
A tip for beginner blacksmiths is to always know what kind of metal they are using.
For example, if you accidentally use galvanized metal in your projects, heating it can release dangerous gases that can send you to the hospital (or even kill you).
Forging project examples
A blacksmith's rounding hammer
To make a rounding hammer that is sure to sell, you will need a 5″ piece of a 2″ diameter round bar. Trim the rod with a hammer and align the ends as needed.
Use a hole punch to mark where to put the eye. Then form the shape of the hammer and its square and round surfaces using a hammer or by hand.
Repeat the square and rounded surfaces of the hammer and move the eye until everything is even. These steps may need to be repeated several times until you achieve the desired result.
Grind the hammerhead down and extinguish it. Then attach the handle of your choice and the hammer is ready!
A campfire cooking tripod
The 5/8″ round rod works well for tripod cooking, but you can use whatever you have on hand. You will need 3 bars of the same length. There is no required length for the rods, so you can make your tripod as big or small as you want.
Heat the rods and taper one end of each rod to a blunt end.
Form a ring from the other end of each rod. There are several different ways to do this, depending on your skill level.
Displace the ring of one rod and connect through the other rings. Then hammer the ring back into the mold to bring the rods together.
Floating shelf brackets
This project requires a 1/2″ square rod. Measure and mark where to cut the length of each rod. Cut the bars to size. You should have three pieces for the large shelf, as shown in the video.
Mark points along the rod. These points will be where your screws will be placed. At each of these points, make several punctures.
Place the ingots in the forge and once they are hot, knock off the sharp edges from each end of the ingots. Slightly round the ends.
Use a piece of 3/8 round bar to make an indentation in the center of each rod. This is where you will be bending the bar later in the process.
Drill holes at each of the previously measured points with a drill press or other method of your choice. Heat the rod again and bend the rod in the middle at the point hollowed out by the 3/8 rod. Repeat these steps for each bar.
FAQs
Is there a market for blacksmiths?
It is true that the market still exists and blacksmiths practice their craft.
Is blacksmithing profitable?
Blacksmithing is a very profitable profession.
What do blacksmith sell?
Blacksmiths produced items such as gates, bars, railings, lamps, furniture, sculpture, tools, agricultural implements, decorative and religious items, kitchen utensils, and weapons.
What do blacksmiths make today?
Modern blacksmiths use modern furnaces to smelt metals, which are then turned into tools, accessories, art, and even weapon replicas. Many blacksmiths practice their skills professionally, but even more, use blacksmithing as a hobby and create or sell their art on a smaller scale.
Conclusion
Although the mechanisms have noticeably supplanted blacksmithing, manual labor is always highly valued. Items that are made by hand are highly valued because it takes a lot of time and effort to create each element.
In addition, they are beautiful, unusual, and unique, unlike factory products. The profession of a blacksmith will not die and will still be necessary for the future, as the demand for forged products does not decrease because they decorate the interior and exterior, and are strong and durable.
More than anything, you should strive to have fun while you work on your projects. The idea of making a lot of money is very attractive, but you need to work hard and do quality work.
For aspiring blacksmiths, it is necessary to strike a balance between making things that you enjoy and making things that sell well online. The more you turn a hobby into a job, the less you like it.
Get creative and you'll find that blacksmiths who want to sell goods online make big profits.Wonder How to forge a sword, read